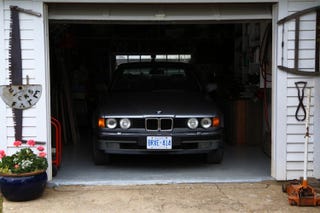 It was a conversation enjoyed over a glass of homemade wine, in a living room lit by long rays of sunshine. My Grandpa and I sat, talking mostly about women and how he met my Grandma. Almost mid-sentence Grandpa Dick – known to the local farmers' market as Richard Beitler – interrupted himself to change the subject. "Let's talk about cars," he said.
Returning from the kitchen he produced a vintage Kelly Blue Book – now more brown than blue. Leafing a few pages in he stopped at a well-worn, earmarked page and ran his finger down a few lines, stopping at the 1988 BMW E30 325iS. "This one would suit me fine." A gentle smile broke. "How do you think I'd find one of these, Shawn? Do they have them on the internet?"
I am my grandfather's grandson. That Grandpa Dick has secretly had his eye on BMW's E30 – my favourite BMW of all time – shows that apples really do fall not far from their respective trees. Needless to say, when you're 92 years old, your bucket list ought to be near completion. And if Grandpa wants to drive a modern-classic BMW, then consider it my life mission to provide him with a mid-eighties Ultimate Driving Machine.
I rang up an old friend to see if she still had her deceased husband's E30 kicking around. As it turns out, this E30 – owned by life-long and greatly missed friend, Jim Caput – was the first BMW I ever drove. I still remember the moment Jim tossed me the keys – it's a defining moment days after getting my beginner's permit that ultimately led to me humbly scribing the article you're now reading. Unfortunately, this E30 had already been sold. I turned to the internet.
E30 hunting is hit-or-miss these days – now relentlessly sought after by BMW aficionados the world over, it's hard to find a clean specimen at a sub-stratospherical price. A thorough search turned up nothing within reach, and the gray-matter wheels started turning.
Grandpa Dick prefers manual cars, automatics aren't really his thing. Maybe it's genetic. That said, at 92, you're allowed to trade in your stick-shift for a slush-box and hold your head high. Hips, like wheel-bearings, eventually wear out. I decided to broaden my search beyond the E30 to other '80s generation BMWs.
Luck struck one morning when I received a phone call from a BMW-mechanic friend. "Shawn, we just got an '88 735i in on trade – she's mint, you've got to act fast." This near-mint condition 735i was missing the prescribed manual gearbox – but it was equipped with BMW's legendary M30 block inline-6 – it's an engine that shares its lineage and iron block with the BMW M1 supercar. I slapped the cash on the table and took the keys.
Driving this then-flagship BMW home was revealing of BMW's unique pride in craftsmanship, attention to detail, unrelenting need for speed, and uncompromised focus on playful handling – all factors that long established BMW as worthy of its "Ultimate Driving Machine" moniker. Quiet, poised, neutral and fast – you'd swear this car was built years – not decades – ago.
The preparation began for the auspicious hand-off and I set to work with a tub of Meguiar's and full-synthetic tire-shine. A thorough wash and two coats of wax later, the 'Ol girl was ready to meet Grandpa, and find her new home.
https://www.youtube.com/watch?v=Uh8XDE…
FULL STORY