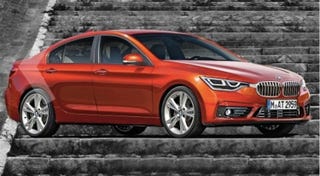 We all know more front-wheel drive BMWs are coming so everyone, stop complaining. BMW has made its bones by making cars that drive the rear wheels. However, like a musician trying a different genre, BMW needs to expand its horizons a bit. So the folks over in Munich are readying a FWD 1 Series Sedan.
The upcoming X1 is already slated to be FWD as is the 2 Series Active Tourer. So it should be no surprise that the 1 Series Sedan will drive its front wheels. BMW must also worry about its competition; the Audi A3 and Mercedes-Benz CLA Class.
Those two aforementioned competitors sell like Blue and Green body paint at Seahawk's stadium. The entry-level, luxury car market is on fire right now and BMW needs to jump in and snatch some sales away from its German brethren. The 2 Series somewhat fills that gap, but only comes in coupe form and is RWD. This will turn some people off, as the coupe doesn't really fit the lifestyle of a lot of the buyers in that segment. So a 1 Series Sedan could entice people to leave Mercedes and Audi in favor of BMW, if priced and optioned correctly.
Now, many might want the 1 Series but want it RWD. The thing is, FWD is much cheaper and would allow BMW to undercut the A3 and CLA buy making it start under $30,000. It will already share many components with the 1 Series hatch and 2 Series, so it will already be cheap to make. But making it FWD would only lessen the cost, which gets transferred to the customers. A younger, middle income family would love a 1 Series Sedan, and making it FWD would make it even more affordable.
It's also worth noting that BMW has learned quite a lot from MINI, when it comes to FWD. And cars like the CLA, A3, and VW Golf/GTI show that FWD can still be fun. If that doesn't satisfy you, then the fact that it will come with xDrive might. Would a turbocharged, four-cylinder, all-wheel drive, BMW sport sedan, available with a manual tickle your fancy? It should, because that basically sounds like a BMW STI.
As a young man who could be starting a family soon, and who could also be entering that market soon, a 1 Series Sedan is exciting regardless of its driven wheels. Does a FWD BMW seem odd to me? Yes, but so did an M car with flappy-paddles or a mid-engined, BMW hybrid, but those turned out great.